Stickmen & Doodles – a musical monologue of love and emotions.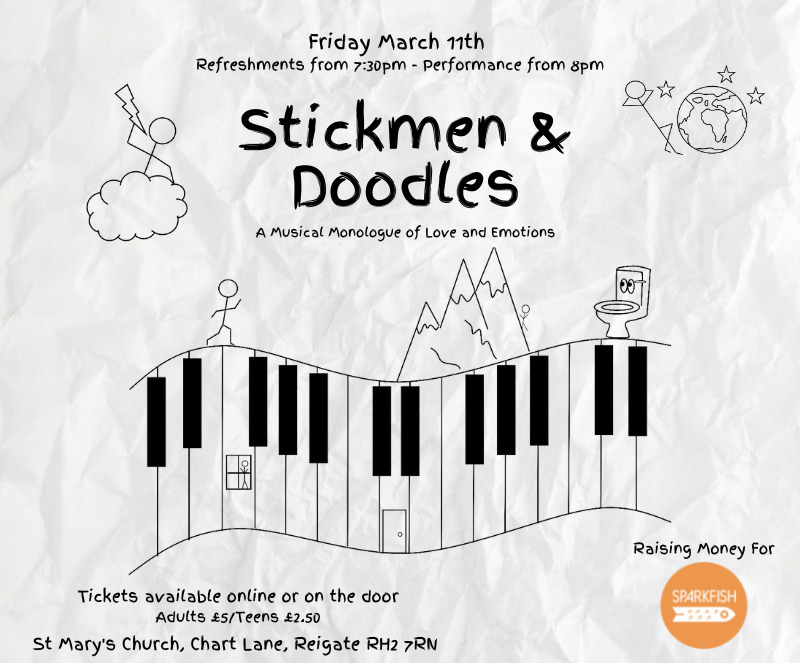 Stickmen & Doodles – a musical monologue of love and emotions.
17 Feb 2022
/
Charles Merritt
I've set myself a challenge this year and I'll be honest, I'm pushing my limits…
As a staff team, we've been encouraged to organise our own fundraisers. I love the work of SparkFish and have witnessed first-hand the incredible difference it makes to young people and children's lives, so of course I want to help raise money to continue and expand the work of the charity. The issue is, I'm lazy. I hate physical exercise and not even the work of a God-caring charity will force me into doing a marathon.
So I had to think very carefully about what I could do instead of physical exercise – something that would be equally as gruelling because people tend to only give money if there's some element of potential embarrassment or pain.
I've always loved performing, having been in shows from a young age and going on to perform in touring shows for Riding Lights Theatre Company and 4Front Theatre Company. But there's one side of my performing life that I've kept relatively hidden.
Since the age of 14 I've been writing my own songs. Only a handful of people have ever heard these, and I honestly don't know whether they're any good or not. They're deeply personal (and slightly tragic) and my soul is laced within each lyric and verse.
On Friday March 11th I shall perform these songs in a sort of mix-match of concert and monologue called 'Stickmen and Doodles' – a title for an album that I've never had the guts to record.
I realise that I might not have sold you on the songs… But my mum thinks they're good. Even better than Adele. I don't want to say she's biased but she is my mum so take this with a grain of salt…
As I said, people love the element of potential embarrassment or pain. It stands to reason then that performing deeply personal songs, playing piano and talking about my life have all the potential for embarrassment and pain as physically possible.
And if that doesn't convince you to come, remember that it's really about raising money for a fantastic charity who do incredible work. I think that's enough of a reason to sit through me singing songs and chatting rubbish for an hour and a half…
Stickmen and Doodles will be performed on Friday 11th March at St Mary's Church, Reigate. Refreshments from 7:30pm. Performance begins at 8pm. Suitable for 12+ due to themes of mental health and suicide. Adult Tickets £5, Teen Tickets £2.50. Tickets available on the door or online at https://stmarysreigate.churchsuite.com/events/x4beerin.
//= get_the_permalink(get_option('page_for_posts')); ?>