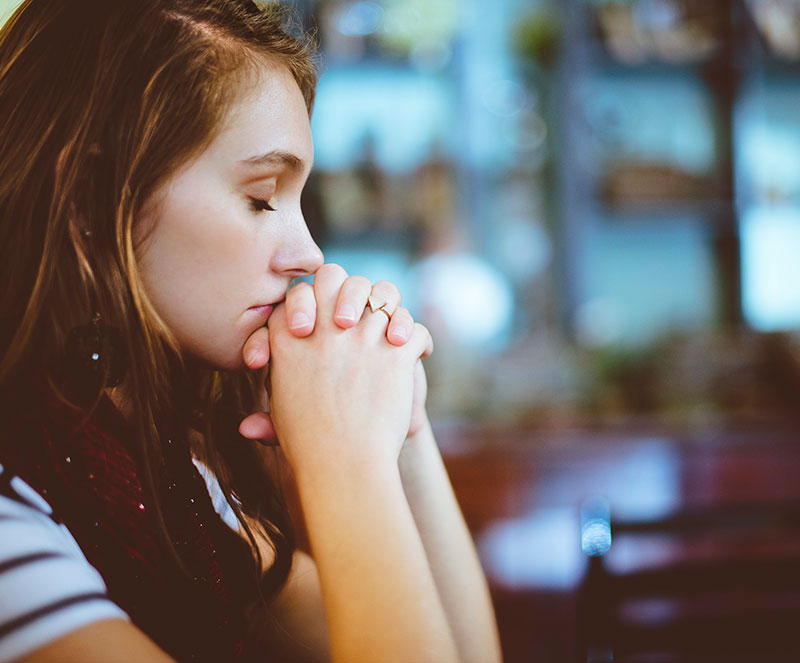 Rejoice always, pray without ceasing, give thanks in all circumstances; for this is the will of God in Christ Jesus for you. [1 Thessalonians 5:16-18]
Pray at all times in the Spirit, with all prayer and supplication. To that end, keep alert with all perseverance, making supplication for all the saints, [Ephesians 6:18]
Therefore confess your sins to each other and pray for each other so that you may be healed. The prayer of a righteous person is powerful and effective. [James 5:16]
I urge, then, first of all, that petitions, prayers, intercession and thanksgiving be made for all people – for kings and all those in authority, that we may live peaceful and quiet lives in all godliness and holiness. [1 Timothy 2:1-2]
Do not be anxious about anything, but in every situation, by prayer and petition, with thanksgiving, present your requests to God. [Philippians 4:6]
Let us then approach God's throne of grace with confidence, so that we may receive mercy and find grace to help us in our time of need. [Hebrews 4:16]
Devote yourselves to prayer, being watchful and thankful.And pray for us, too, that God may open a door for our message, so that we may proclaim the mystery of Christ, for which I am in chains. Pray that I may proclaim it clearly, as I should. [Colossians 4:2-4]
If you remain in me and my words remain in you, ask whatever you wish, and it will be done for you [John15:7]
This, then, is how you should pray: 'Our Father in heaven, hallowed be your name,your kingdom come, your will be done, on earth as it is in heaven. Give us today our daily bread. And forgive us our debts, as we also have forgiven our debtors.And lead us not into temptation, but deliver us from the evil one.' [Matthew 6:9-13]
Prayer. Why do we do it? How do we do it? Does it make a difference? In the Bible we are instructed to pray. Pray at all times. Pray without ceasing. Pray for each other. Pray for our leaders. Pray with confidence. Pray with thankfulness. Pray to our Father. Pray. Pray about everything. But do we do it? Do we pray enough? Do we make it our priority?
We were chatting in our staff meeting the other day about how important prayer is but how it is so easy to forget to do it. In the busyness of our lives and our work, how easy is it to forget to pause and make ourselves present with the Lord, to invite Him into the conversation, to invite Him into our day and our work. When our schedules get busy, prayer is often the first thing to go. But it should be the first thing we do.
If I'm honest, often I find myself at a loss for words. I don't even know what to say, what to pray. I look around at the world and I feel completely inadequate. How can I make a difference? What could I possibly pray that would make the slightest impact on the darkness we see all around us? Then I remember, it's not about me, it's all about Him. It's Jesus. Jesus – light of the world. Jesus is the only one who can break through the darkness and bring change. And as a Christian, Jesus lives in me. When I pray, I have the authority of Jesus Christ, Jesus Christ who called me to pray, who taught me how to pray. So why don't I do it more. Jesus invites us to partner with Him in bringing His Kingdom here on earth. He asks us to pray for it and He asks us to live it. So why don't we?
So will you pray with me? Will you join with me in committing to pray for the work of SparkFish, for the children and young people we work with, for the schools and teachers we support, that His Kingdom will come, here on earth, here in 2021. His Kingdom come, His will be done.
Father, thank you for prayer. Thank you Jesus that through dying in our place, you have given us access to the Father, and to all authority in heaven. We are sorry for the times we make prayer about us, about having the right words and saying the right things. We are sorry for the times we forget to pray, for when we prioritise everything else above spending time listening to you and speaking with you.
We pray now for the schools of Reigate, Redhill, Merstham and the surrounding areas, for every child, young person and adult we come into contact with through the work of SparkFish. Father will you show us how you want us to meet the needs of the schools, help us to listen for your voice, to be your hands and feet in the schools. Help us not to get carried away with ideas that aren't of you but to keep our eyes fixed on you. Father would everything we do be rooted in you. We want to see more of your light, more of your peace, more of your presence in everything we do. Your Kingdom come, your will be done on earth as it is in heaven, in Reigate as it is in heaven, in Redhill as it is in heaven, in Merstham as it is in heaven. For yours is the Kingdom, the power, and the glory. Forever and ever. Amen.
//= get_the_permalink(get_option('page_for_posts')); ?>